Resources from our Affordable Fitness+ Nutrition Workshop by the wonderful Madison Lawrie, R.D!
—Fitness
Food—
Helpful Resources for New & Current Students (update coming soon)
Students' Mental Health Resources
SUNSCAD collected the following information from the Mindful Campus program coordinator Courtney Connor to help students navigate their educational journeys as smoothly as possible.
↓ ↓ About NSCAD's recent trip to Greece ↓ ↓
SUNSCAD seeked information from the source to address students' concerns and to protect students' right of information. Here's the information that Dr. Peggy Shannon shared with us regarding the trip's logistics ↓ ↓ ↓ ↓
——————————————————————————————–
Let's Welcome These Amazing Individuals to Our NSCAD Community!
Download the Jess x SUNSCAD
↓↓↓
↓↓↓
Information Interview
In order to introduce the new position of Accessibility Learning Strategist held by Jess Johnson, SUNSCAD gathered FAQs from students via Instagram over a certain period of time to clarify how accessibility will look like in the upcoming Fall semester going forward. Please reach out to Jess for any questions or concerns via her email: accessibility@nscad.ca
Courtney is a Mi'kma'ki-based, queer, intersectional-feminist who is at NSCAD to lead the Mindful Campus Initiative– a federally-funded national project directed at improving overall wellbeing on art & design campuses across Canada.
Courtney believes in the importance of an anti-oppressive, holistic, and trauma-informed approach, allowing her to connect and engage with the communities she serves in a meaningful and impactful way. They are passionate about feminism, 2SLGBTQ+ issues, anti-racism, community development, changemaking, justice reform, creative practices, conflict resolution, youth empowerment, and the intersection of academics and praxis. (source: NSCAD Student Life Instagram Account)
What's the Mindful Campus Program all about?
Participating in Mindful Campus will help you learn to pay better attention and connect with the present so you can be more intentional about your response. Basically, you'll learn a set of practices that will help you manage stress and anxiety while building your capacity to cope. That way you can be your most authentic, creative, and thriving self. (source: NSCAD Student Life Instagram Account)
More Amazing NSCAD Community Members To Meet Coming Soon!
—————————————————————————————————————————————————————————————
CONGRATS NEW GRADUATES!
WE DID IT! THE SUNSCAD is so proud of all of us who finally graduated!! It's time to spread those wings & make OUR dreams a reality! NEVER SETTLE FOR ANYHTING LESS THAN THE DREAM JOB (even if that means working 9 to 5s on the side, your big break will come!)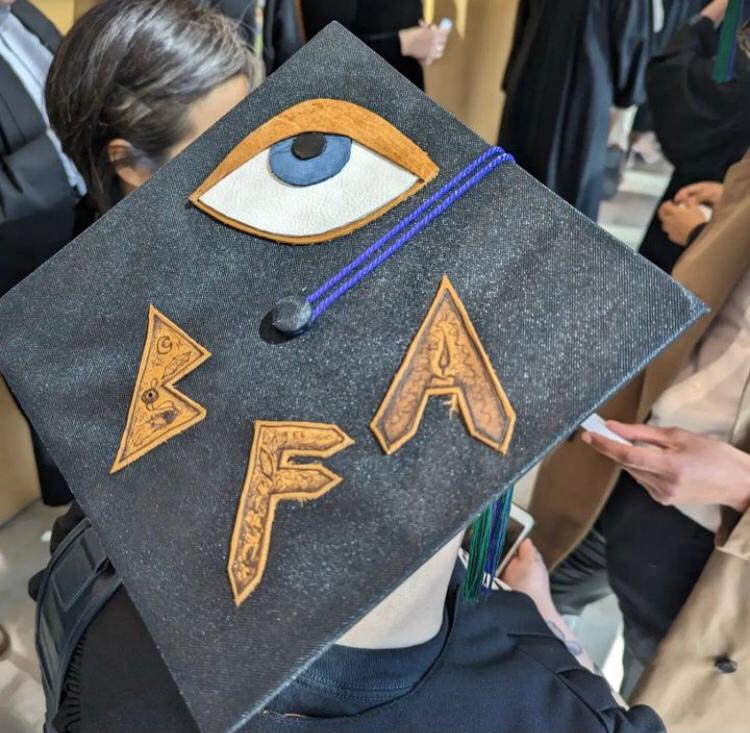 It's a Wrap! April 22, 2023! It's a Wrap !
Angela Sande (left) and Gabriella Ciurcovich (right) playing the afternoon away with midday Jazz tunes at Xena's Bread & Butter -April 22, 2023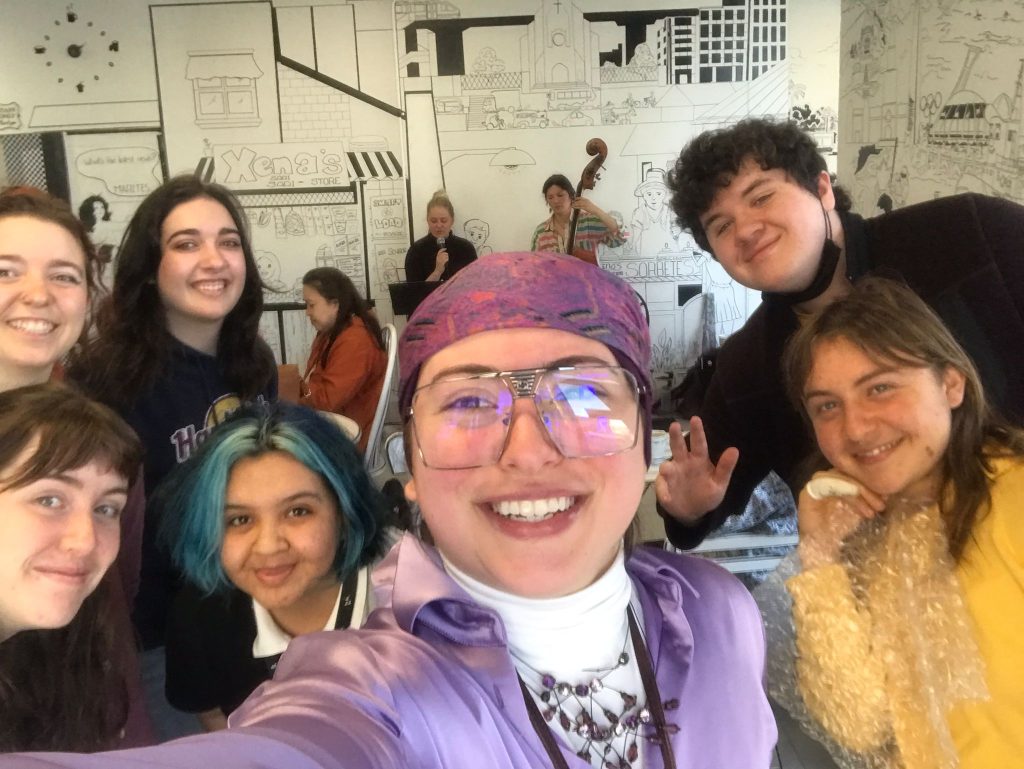 The elected SUNSCAD Executive team in office from May 1st 2022 – April 30th 2023!
Vice President Academic – Alexandra Butu – academic@sunscad.org
Vice President Finance – Chris Parsons – finance@sunscad.org
Vice President Internal – Elanor Jazzar – internal@sunscad.org
——————————————————————————————–
As the Student Union of NSCAD University we would like to recognize and validate all student experiences. Specifically, those of racism at NSCAD.
We would like to recognize that NSCAD is an institution built on unceded and unsurrendered Mi'kmaq territory. NSCAD's founding community was homogenous and SUNSCAD wants to recognise the amount of work it will take to create an inclusive environment at NSCAD.
We want to acknowledge students that have come through NSCAD and had traumatic experiences due to racism. Their experiences are real. This is a conversation that has been ongoing and is an important one that needs to be addressed until we have created a safer and more inclusive environment at NSCAD.
As the institution works towards creating a more inclusive environment, SUNSCAD encourages students to reach out to their student union if you or anyone you know has had recent experiences at the school and would like to see that addressed. The main point of contact is our Resource Coordinator Tara Fleming and from there you will be redirected to the relevant union executive.
Sincerely,

Vacant – SUNSCAD President
Chris Parsons – VP Finance & Equity
Alexandra Butu – VP Academic
Elanor Jazzar – VP Internal
April, 2023
Services
Food Bank
The SUNSCAD Food Bank is located in Fountain Campus behind the kitchenette. Swing by and pick up ingredients for dinner on your way home.
Employment
From time to time SUNSCAD hires students. Keep an eye on your e-mail for the SUNSCAD dispatch which will have listed job opportunities
Health Plan
We are part of the CFS National Student Health Network which enables us to provide each student with a Green Shield Canada health plan.
Meet the Team
There are five executive members of the student union who are elected by NSCAD students every year.
The SUNSCAD Council is an integral part of the student union that works alongside the Executives.
SUNSCAD has one full-time staff person to help out with administrative work all year.
What's Happening at SUNSCAD
Clubs and collectives are formed by members of the student body in order to unite individuals around common issues, activities, or goals.
Free Coffee is an annual student publication exhibiting student artwork and writing.